REED RELAYS FOR DATA AQUISITION
Pickering Series 100 and 101 have low coil power requirements and low thermal EMF figures making them ideal for data acquisition scanners.
We understand that choosing the right Reed Relay for your application can be daunting. If you are unsure which Reed Relay will best suit your product, please do not hesitate to 
contact us
. Our technical experts will be happy to assist you in any queries you may have regarding Reed Relays.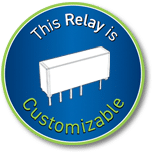 Series 100

Low Thermal EMF Relays
Direct drive from CMOS
• SoftCenter™ construction
• Highest quality instrumentation grade switches
• Thermal EMF about 1 microvolt or less
• Low power consumption, ideal for portable equipment
• Encapsulated in a plastic package with internalmu-metal magnetic screen
• Wide range of switch configurations – 1 Form A,1 Form B, 2 Form A, 1 Form C
• Many benefits compared to industry standard relays. Learn more here >.
• Two pole relay requires the same board area as the single pole type
• Dry and mercury wetted switches are available with the same pin configuration and footprint
• Insulation resistance greater than 10E12 Ohms (1TOhms) for dry Form A devices
• 5, 12 and 24 volt coils are standard, with or without internal diode
• 100% tested for dynamic contact resistance
The Pickering Series 100 is a complete range of Single-in- Line (SIL) reed relays primarily intended for direct drive from 4000B CMOS or similar low current sources. They feature a very low level of thermal EMF.
Series 101