COAXIAL REED RELAYS FOR RF SIGNAL SWITCHING AND HIGH-SPEED DIGITAL SWITCHING
Reed Relays are an excellent choice for RF Signal Switching, RF switched tuneable filters, and High-Speed Digital Switching due to their speed and size when compared to Electromechanical Relays, lower insertion loss and DC capability when compared to Solid State Relays, and hot switching capability when compared with Micro Electromechanical Machines.
Please take a look at Pickering's 50Ω and 75Ω RF coaxial reed relays below. These high-frequency reed relays are suitable for up to 5 GHz. Available in through-hole or surface mount.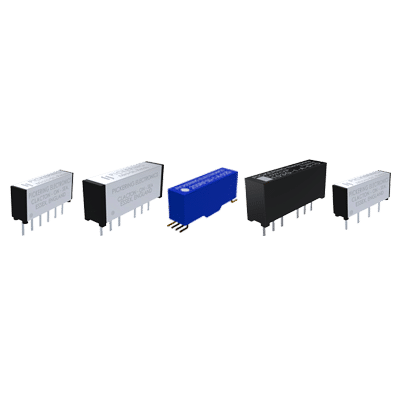 We understand that choosing the right Reed Relay for your application can be daunting. If you are unsure which Reed Relay will best suit your product, please do not hesitate to contact us. Our technical experts will be happy to assist you in any queries you may have regarding Reed Relays.
| | | | | | Switching Voltage (DC or AC peak) | Stand-off Voltage (DC or AC peak) | | | | | | | | | | | |
| --- | --- | --- | --- | --- | --- | --- | --- | --- | --- | --- | --- | --- | --- | --- | --- | --- | --- |
| | | 1 Form C - SPDT Changeover | | | | | | | | | | | | | | | |
| | | | | | | | | | | | | | | | | | |
| | | | | | | | | | | | | | | | | | |
| | | | | | | | | | | | | | | | | | |
| | | | | | | | | | | | | | | | | | |
| | | | | | | | | | | | | | | | | | |
| | | | | | | | | | | | | | | | | | |