Reed Relays for Monitoring Photovoltaic Efficiency & Fault Detection
Check out this new application guide about monitoring photovoltaic solar farm efficiency and how to detect faults in order to prevent power loss, permanent damage, or even fire.
The guide explains the current sensing circuit and which high-voltage switching technologies should be considered.
Full contents of the guide:
PV System Monitoring

Switching Technologies

Reed Relay Terminology

Recommended Products

Why Pickering for Reed Relays?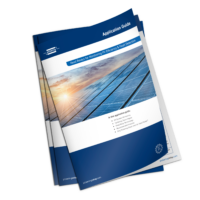 The information you provide will only be used by Pickering to enable us to keep you informed of products developments. We do not pass any information to other organizations. You may unsubscribe from these communications at anytime. For information on how to unsubscribe, as well as our privacy practices and commitment to protecting your privacy, check out our Privacy Policy.