REED RELAYS FOR THERMOCOUPLE SWITCHING
In data acquisition applications where thermocouples or similar, very low-level signals need to be switched, the thermal EMFs generated across the switch path can result in unacceptable errors.  Pickering's Series 100 and 101 reed relays are designed for improved thermal EMFs performance across the switch path when compared to general purpose reed relays or other switching technologies.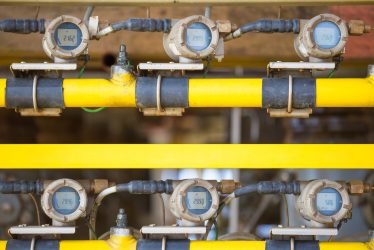 Thermal EMFs are dependent on the temperature gradient across the switch, the high coil resistances up to 3300 Ohms for a 5 Volt relay reduces the coil heating effect and the larger mass of the device dissipates this heat helping to minimize the thermal gradient across the switch. The most efficient way is to use a 2-pole relay with one switch connected to one end of the thermocouple and the second switch connected to the other end, with the switches connected differentially, the thermal EMF across one switch will be in the opposite polarity as the voltage in the second switch so having a cancelling effect. With this set up, a 2 pole Series 100 or Series 101 can introduce less than 1 microvolt across the relay ensuring accurate measurements.
The Series 100 and Series 101 offer 1 Form A, 2 Form A, 1 Form B and 1 Form C configurations, all featuring magnetic screening to allow for side by side stacking and instrumentation grade reed switches to ensure long life. The low coil power consumption also makes these reed relays ideal for portable equipment.
Recommended Reed Relays for Thermocouple Switching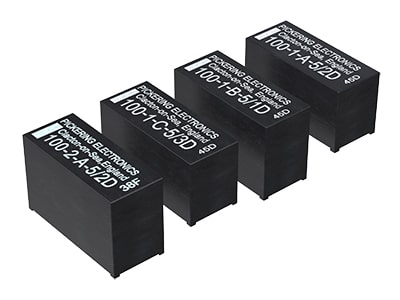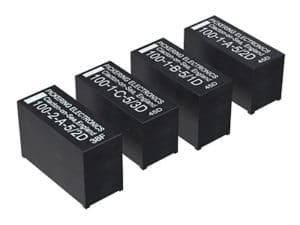 Thermal EMF about 1 Microvolt or Less. 1 Form A, 2 Form A, 1 Form B & 1 Form C configurations. 3, 5, 12 or 24 V coils. Low power consumption, ideal for portable equipment.
The Pickering Series 100 is a complete range of Single-in- Line (SIL) reed relays primarily intended for direct drive from 4000B CMOS or NMOS logic or similar low current sources. They are also useful for applications where conservation of current is important, for example, battery powered equipment.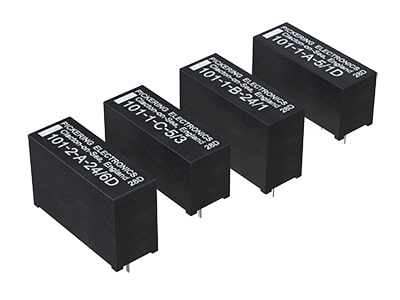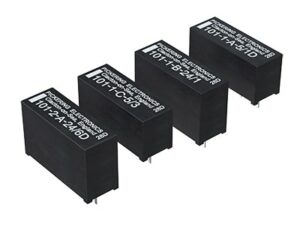 Direct drive from 74HC or HCT. Stacking on 0.3 inches pitch. 1 Form A, 2 Form A, 1 Form B & 1 Form C configurations. 3, 5, 12 or 24 V coils. Encapsulated in a plastic package with internal mu-metal magnetic screen.
The Series 101 have very high coil resistances. 5 Volt dry versions may be driven directly from 74HC or 74HCT logic without the need for additional drivers. 74HC logic will drive up to 4mA at 5 Volts, therefore a coil resistance of 1600 ohms is desirable to avoid running the IC at its maximum rating; 1600 ohms is the coil resistance of the single pole dry Series 101.
Shop Reed Relays for Thermocouple Switching
The below table will help you narrow down our offering to get you the correct reed relay for your application.
Once you narrow your selections down you can download a reed relay data sheet for more information or request a quote to find out prices and lead times.
| | | | | | Switching Voltage (DC or AC peak) | Stand-off Voltage (DC or AC peak) | | | | | | | | | | | |
| --- | --- | --- | --- | --- | --- | --- | --- | --- | --- | --- | --- | --- | --- | --- | --- | --- | --- |
| | | | | | | | | | | | | | | | | | |
| | | | | | | | | | | | | | | | | | |
| | | | | | | | | | | | | | | | | | |
| | | | | | | | | | | | | | | | | | |
| | | | | | | | | | | | | | | | | | |
| | | | | | | | | | | | | | | | | | |
| | | | | | | | | | | | | | | | | | |