REED RELAYS FOR HIGH POWER
Miniature, ultra-high packing density reed relays usually have a switching rating of up to 10 Watts and 0.5 amps, but some applications can require higher switching power and higher carry current specifications.
The Series 100HC and Series 114 offer 1 amp switching up to 40 Watts and 3 amps continuous carry current, and the Series 67 offers 3 amp switching up to 200W and 5 amps continuous carry current. Having the advantages of hermetically sealed contacts, fast operating speeds and very low leakage currents, these can offer an ideal solution over other switching technologies. In cold switching applications where current pulses are applied, up to 5 times the continuous carry current specification is achievable depending on the duty cycle.

Recommended Reed Relays for High Power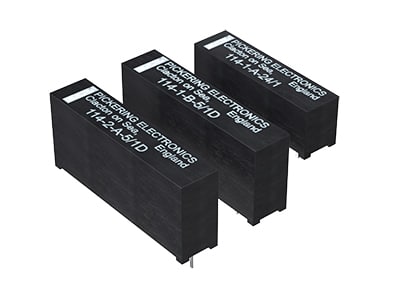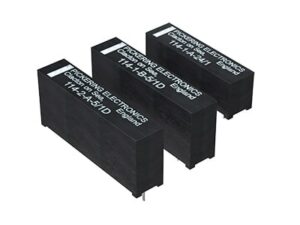 1 A switching at up to 40 W, carrying 3 A. Form A (energise to make) or Form B (energise to break) configurations. 3, 5, 12 or 24 V coils. Suitable for high power applications and in many cases, may be used as an alternative to mercury wetted reed relays.
The Series 114 is a range of Single-In-Line reed relays intended for power levels that are beyond the capabilities of conventional dry SIL reed relays. The range features an internal mu-metal screen to minimize problems that would otherwise be experienced due to magnetic interaction when they are closely stacked.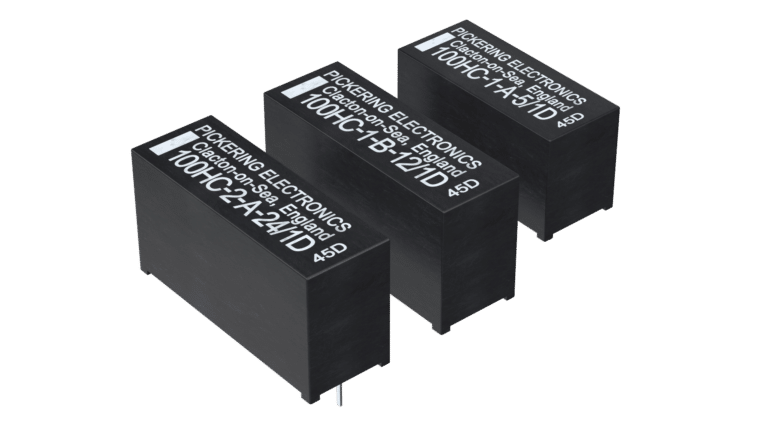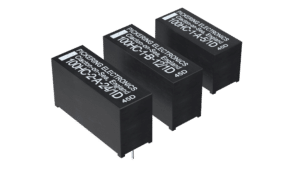 1 A switching at up to 40 W. High coil resistance of up to 6000 Ω for low power consumption. Form A (energise to make) or Form B (energise to break) configurations. 5 , 12 or 24 V coils.
The Pickering Series 100HC offers higher coil resistance than the similar specification Series 114, the greater winding space allowing for the use of switches rated to 3 Amps continuous carry current and even higher levels in pulsed current applications.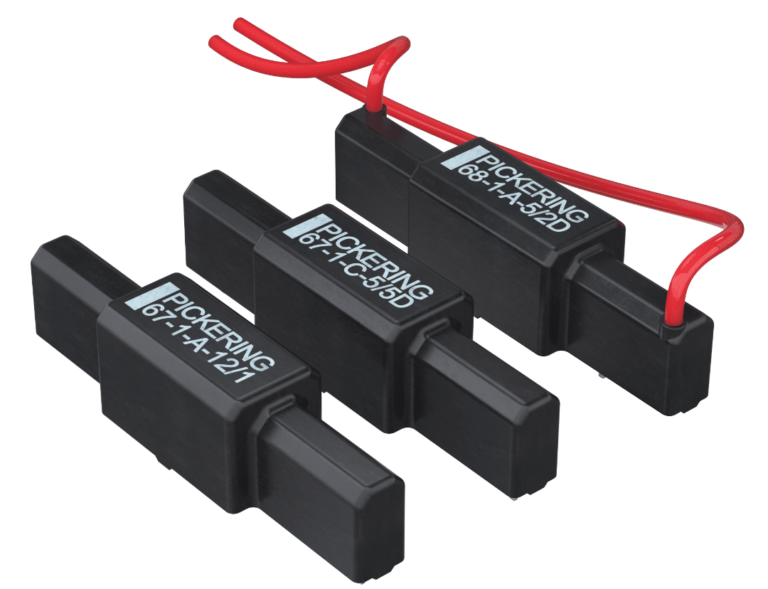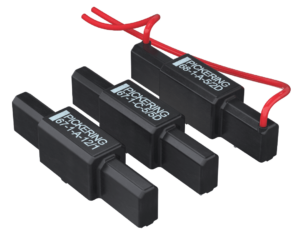 The highest power switch in the Pickering portfolio – Up to 200 W. 5, 12, and 24 V coils with optional internal diode. 1 Form A and 1 Form C configurations. Suitable for high voltage, electro solar and cable testing.
With a stand-off voltage of up to 8 kV, and capable of 6kV switching at 200W, Series 67 relays are constructed using a lead frame in a Single-in-Line (SIP) format and feature former-less coils which results in a smaller package than is usual for this type of device.
Shop Reed Relays for High Power
The below table will help you narrow down our offering to get you the correct reed relay for your application.
Once you narrow your selections down you can download a reed relay data sheet for more information or request a quote to find out prices and lead times.
| | | | | | Switching Voltage (DC or AC peak) | Stand-off Voltage (DC or AC peak) | | | | | | | | | | | |
| --- | --- | --- | --- | --- | --- | --- | --- | --- | --- | --- | --- | --- | --- | --- | --- | --- | --- |
| | | | | | | | | | | | | | | | | | |
| | | | | | | | | | | | | | | | | | |
| | | | | | | | | | | | | | | | | | |
| | | | | | | | | | | | | | | | | | |
| | | | | | | | | | | | | | | | | | |
| | | | | | | | | | | | | | | | | | |
| | | | | | | | | | | | | | | | | | |