EVALUATION RELAY SAMPLES REQUEST FORM
Get your free Pickering Reed Relay samples here.
Are you a research and development engineer tasked with designing new products? Determining which components to design in can be challenging. Fortunately, here at Pickering Electronics, we provide free working samples to help you evaluate our high-quality Reed Relays.
Please complete the form below to request any sample relays from Pickering.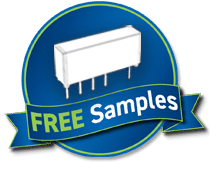 The information you provide will only be used by Pickering to enable us to keep you informed of products developments. We do not pass any information to other organizations. You may unsubscribe from these communications at anytime. For information on how to unsubscribe, as well as our privacy practices and commitment to protecting your privacy, check out our Privacy Policy.
Want more Reed Relay
Information?
Pickering Electronics has published a book, Reed RelayMate, providing an overview of how reed relays work, how they are constructed, how to interpret their specifications and make the best use of them in their applications. It is intended to be a practical book about reed relays aimed at engineers.