HIGH VOLTAGE SMD 3kV REED RELAY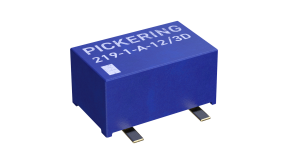 HIGH VOLTAGE SURFACE MOUNT REED RELAYS
High Voltage Surface Mount Reed Relays
• 1kV Switching
• Up to 3kV stand-off Switch
• Up to 5kV stand-off Switch Coil
• 1 Form A, 2 Form A or 1 Form B configurations
• 3V, 5V & 12V coils with optional internal diode
• Insulation resistance >1012 Ω
• Switching up to 0.7A, 10W
• Suitable for mixed signal semiconductor testing, medical electronic equipment testing, EV charge point testing, monitoring photovoltaic efficiency, in-circuit test equipment, and high voltage instrumentation 
• Many benefits compared to industry standard relays, for more info click here >
Only Pickering makes surface mount high voltage relays with 2 Form A and 1 Form B packages. The 2 Form A configuration optimizes board space, providing two switches in the same footprint. With 1 Form B, users can have a normally closed relay option that is not available elsewhere in the market.
Available in multiple package types (of the same size, but with differing pin positions), these reed relays can switch up to 1000V in 1 Form A (SPST), 2 Form A (DPST), and 1 Form B (SPNC) contact configurations; switch stand-off is up to 3000V, while switch-coil isolation is up to 5000V stand-off.
Within the Series 219 range, all contact configurations are offered with three coil voltages, 3V, 5V, or 12V. Switch stand-off is up to 1.5kV in the 2 Form A package, up to 2kV in 1 Form B, and up to 3kV in the 1 Form A package, while switch-coil isolation is up to 5kV stand-off in 1 Form A and 1 Form B types. Switching is up to 0.7A and 10W, while the operating temperature range spans from -40°C to +105°C.
All part numbers are offered with a diode option. Suppression diodes are placed within the relay to protect the device driving the relay coil against back emf which is generated when the current flow to the coil is interrupted. The drop in current causes a voltage to rise which can damage other components on a PCB board such as the coil drive.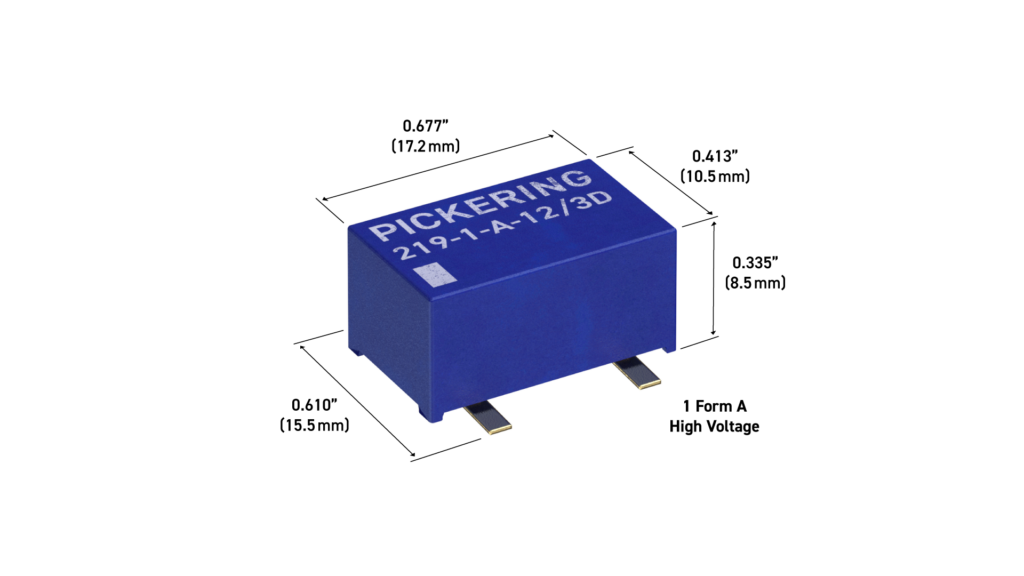 Download the Series 219 Datasheet

All our data sheets have been recently updated to include additional environmental specifications, mechanical characteristics and relay weights, RF plots for coaxial relays (showing VSWR, isolation and insertion loss), interactive links to further useful information, comparison tables to similar relay ranges and much more.
Download the Series 219 3D Models
The download is a zip file containing 3D models in STEP, IGS and SLDPRT formats (free viewers are available for these formats).
All Pickering reed relays feature the highest quality instrumentation grade reed switches making them suitable for the most demanding applications. Internal mu-metal magnetic screens allow very high packing density. Diodes are optional.
The below table will help you narrow down our offering to get you the correct reed relay for your application.
| | | | | | Switching Voltage (DC or AC peak) | Stand-off Voltage (DC or AC peak) | | | | | | | | | | | |
| --- | --- | --- | --- | --- | --- | --- | --- | --- | --- | --- | --- | --- | --- | --- | --- | --- | --- |
| | | | | | | | | | | | | | | | | | |
| | | | | | | | | | | | | | | | | | |
| | | | | | | | | | | | | | | | | | |
| | | | | | | | | | | | | | | | | | |
| | | | | | | | | | | | | | | | | | |
| | | | | | | | | | | | | | | | | | |
| | | | | | | | | | | | | | | | | | |
| | | | | | | | | | | | | | | | | | |
| | | | | | | | | | | | | | | | | | |
| | | | | | | | | | | | | | | | | | |