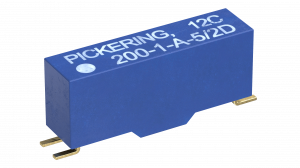 3W (FORM C), 15W (FORM A) UP TO 5GHz, MERCURY 50W
Surface Mount Reed Relays Including coaxical types for up to 5GHz
• SoftCenter™ construction
• Highest quality instrumentation grade switches
• Encapsulated in plastic package with internal mu-metal screen for side-by-side mounting without magnetic interaction
• Insulation resistance greater than 10E12 Ohms (1TOhms) for Form A devices
• For R.F. or high speed digital applications, 50 or 75 ohms coaxial devices are available in the same small package
• Wide range of switch configurations - 1 Form A, 1 Form B, 2 Form A. 1 Form C
• Dry and mercury wetted switches available
• 3, 5 and 12 Volt coils are standard, with or without internal diode
• 100% tested for dynamic contact resistance
• Many benefits compared to industry standard relays. Click here to learn more.
The Series 200 is a complete range of surface mount reed relays.Both dry and mercury wetted switches are available in a wide range of configurations including coaxial types for RF up to 5GHz, or high speed digital switching with a step response time of less than 30ps. Please contact our technical department for
supplementary RF data.
The special high temperature plastic package will withstand the temperatures associated with Infra-red or vapour phase reflow soldering processess. A flexible inner encapsulant protects the sensitive glass/metal reed switch seals - this is a very big advantage over the more usual hard moulded package.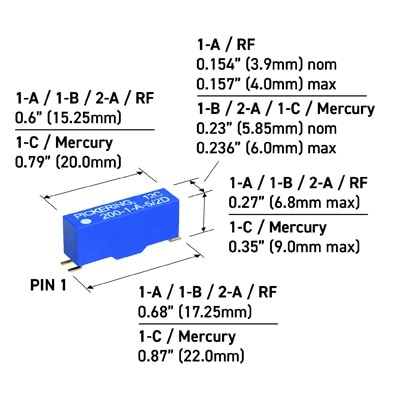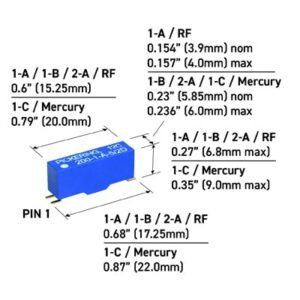 Download the Series 200 Datasheet

All our data sheets have been recently updated to include additional environmental specifications, mechanical characteristics and relay weights, RF plots for coaxial relays (showing VSWR, isolation and insertion loss), interactive links to further useful information, comparison tables to similar relay ranges and much more.
Download the Series 200 3D Models
The download is a zip file containing 3D models in STEP, IGS and SLDPRT formats (free viewers are available for these formats).
The below table will help you narrow down our offering to get you the correct reed relay for your application.
| | | | | | Switching Voltage (DC or AC peak) | Stand-off Voltage (DC or AC peak) | | | | | | | | | | | |
| --- | --- | --- | --- | --- | --- | --- | --- | --- | --- | --- | --- | --- | --- | --- | --- | --- | --- |
| | | | | | | | | | | | | | | | | | |
| | | | | | | | | | | | | | | | | | |
| | | 1 Form C - SPDT Changeover | | | | | | | | | | | | | | | |
| | | | | | | | | | | | | | | | | | |
| | | | | | | | | | | | | | | | | | |
| | | 1 Form C - SPDT Changeover | | | | | | | | | | | | | | | |