LEGACY/CLASSIC PICKERING REED RELAY STYLES
These older style relay ranges have been manufactured for many years. Most sold today are for service replacements – proving Pickering's long term commitment to our reed relay products and to our customers.
All Pickering Reed Relays feature the highest quality instrumentation grade reed switches making them suitable for the most demanding applications.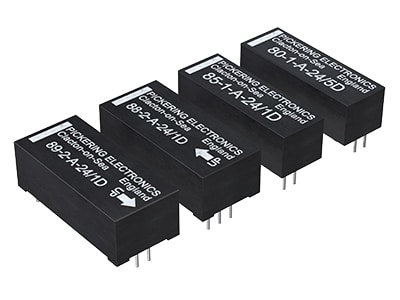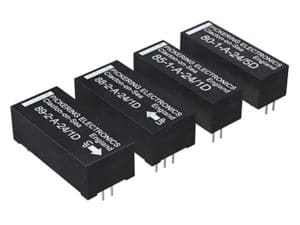 Series 80, 85, 88 & 89
The Pickering Series 80, 85, 88 & 89 are available with both dry and mercury wetted switches. They are available with 5, 12 and 24 volts coils.
A particularly useful feature of the 5 volt dry devices is their ability to be driven directly from TTL, the coil requiring only 10mA of drive current. All units have an internal magnetic screen and can be supplied with a built-in diode if required.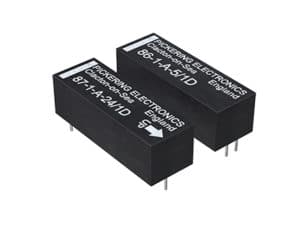 Series 86 & 87
The Pickering Series 86 & 87 features 5, 12 and 24 volt coils.  Dry and mercury wetted switches are available with the same pin configuration.
These ranges of reed relays are essentially the same as the dry Series 80 and 85 and the mercury wetted Series 88 and 89 but with coil resistances between 2 and 3 times higher.
Shop Legacy/Classic Reed Relays
The below table will help you narrow down our offering to get you the correct reed relay for your application.
Once you narrow your selections down you can download a reed relay data sheet for more information or request a quote to find out prices and lead times.
| | | | | | Switching Voltage (DC or AC peak) | Stand-off Voltage (DC or AC peak) | | | | | | | | | | | |
| --- | --- | --- | --- | --- | --- | --- | --- | --- | --- | --- | --- | --- | --- | --- | --- | --- | --- |
| | | | | | | | | | | | | | | | | | |
| | | | | | | | | | | | | | | | | | |
| | | | | | | | | | | | | | | | | | |
| | | | | | | | | | | | | | | | | | |
| | | | | | | | | | | | | | | | | | |
| | | | | | | | | | | | | | | | | | |
| | | | | | | | | | | | | | | | | | |