View the individual Series information by clicking below: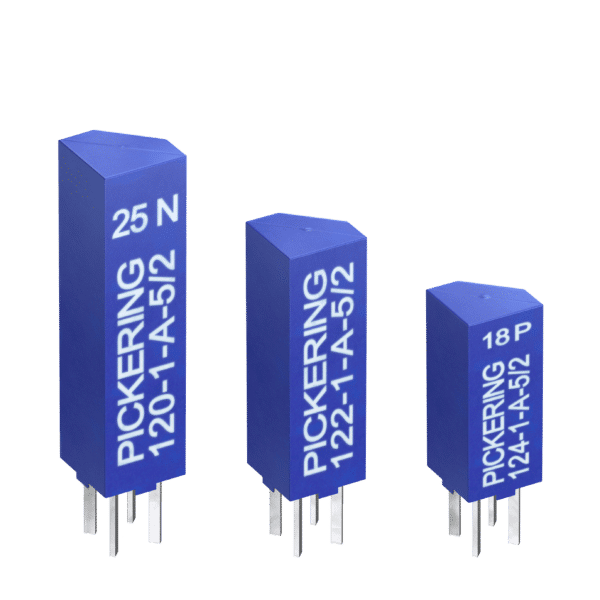 ULTRA-HIGH DENSITY 4MM REED RELAYS
Ultra-high density 4mm2 TM reed relay product lines are up to 1 Amp switching, whilst still stacking on a 4mm x 4mm pitch, allowing the highest packing density currently available in the industry.
The relays feature the highest quality instrumentation grade reed switches and internal mu-metal magnetic screens to minimise magnetic interaction when relays are stacked closely together.
4mm2 TM  reed relays are ideal for very high density applications such as A.T.E. switching matrices or multiplexers.
Many advantages over other typical industry reed relays, click here to learn more,
Data Sheets

All our data sheets have been recently updated to include additional environmental specifications, mechanical characteristics and relay weights, RF plots for coaxial relays (showing VSWR, isolation and insertion loss), interactive links to further useful information, comparison tables to similar relay ranges and much more.
Download the Ultra-High Density 3D Models
The download is a zip file containing 3D models in STEP, IGS and SLDPRT formats (free viewers are available for these formats).
The below table will help you narrow down our offering to get you the correct reed relay for your application.
| | | | | | Switching Voltage (DC or AC peak) | Stand-off Voltage (DC or AC peak) | | | | | | | | | | | |
| --- | --- | --- | --- | --- | --- | --- | --- | --- | --- | --- | --- | --- | --- | --- | --- | --- | --- |
| | | | | | | | | | | | | | | | | | |
| | | | | | | | | | | | | | | | | | |
| | | | | | | | | | | | | | | | | | |
| | | | | | | | | | | | | | | | | | |
| | | | | | | | | | | | | | | | | | |
| | | | | | | | | | | | | | | | | | |
| | | | | | | | | | | | | | | | | | |
| | | | | | | | | | | | | | | | | | |
| | | | | | | | | | | | | | | | | | |
| | | | | | | | | | | | | | | | | | |