HIGH VOLTAGE SIL/SIP REED RELAYS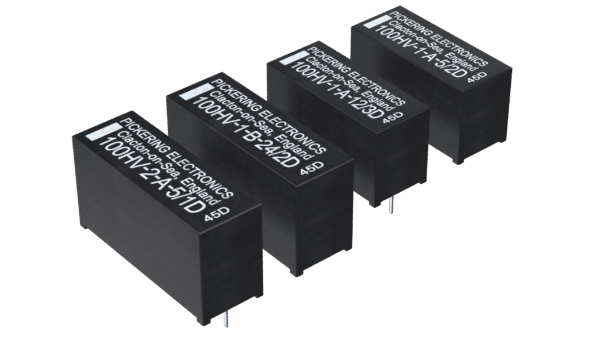 High coil resistance for low power consumption
• Up to 3kV stand-off
• Stacking on 0.40 Inches pitch
• High coil resistance for low power consumption
• Thermal EMF levels between 3uV and 10 μV
• Internal mu-metal magnetic screen
• One or two switches in a single package
• 1 Form A, 2 Form A & 1 Form B configurations
• Two pole relay requires the same board area as the single pole type
• 5 V, 12 V or 24 V coils with optional internal diode
• Ideal for transformer or cable testing
• Many benefits compared to industry standard relays, for more info click here >
The Pickering Series 100HV have the same High Voltage specifications as the Pickering Series 104 but with over double the coil resistance. They are ideal for such applications as transformer or cable testing or any other automatic test equipment where high voltages are involved and low coil power consumption is required.
Where mains voltage are switched, for example, to control and isolate S.C.R. or triac gates, they are an ideal choice. And in mixed signal applications the lower coil power reduces the Thermal EMF voltages generated across the switch. The range features an internal mu-metal screen to eliminate problems that would otherwise be experienced due to magnetic interaction when they are closely stacked.
Three types of dry switches are available, capable of standing-off 1.5, 2 or 3 kV d.c. The 3 kV version has an increased clearance between the switch and coil pins to accommodate the higher voltage. Even higher voltage ratings are available to special order, please content our sales office for further information.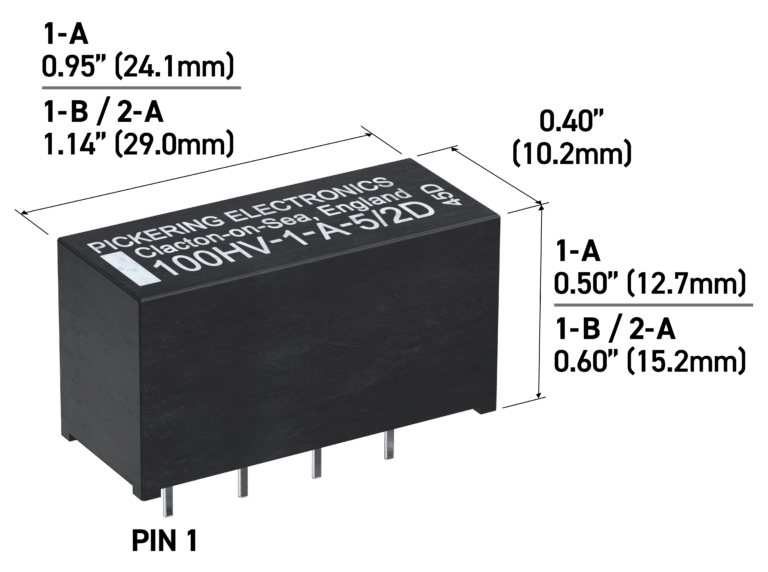 Download the Series 100HV Datasheet

All our data sheets have been recently updated to include additional environmental specifications, mechanical characteristics and relay weights, RF plots for coaxial relays (showing VSWR, isolation and insertion loss), interactive links to further useful information, comparison tables to similar relay ranges and much more.
Download the Series 100HV 3D Models
The download is a zip file containing 3D models in STEP, IGS and SLDPRT formats (free viewers are available for these formats).
All Pickering reed relays feature the highest quality instrumentation grade reed switches making them suitable for the most demanding applications. Internal
mu-metal magnetic screens
(optional on
Series 103
) allow very high packing density. Diodes are optional.
The below table will help you narrow down our offering to get you the correct reed relay for your application.
| | | | | | Switching Voltage (DC or AC peak) | Stand-off Voltage (DC or AC peak) | | | | | | | | | | | |
| --- | --- | --- | --- | --- | --- | --- | --- | --- | --- | --- | --- | --- | --- | --- | --- | --- | --- |
| | | | | | | | | | | | | | | | | | |
| | | | | | | | | | | | | | | | | | |
| | | | | | | | | | | | | | | | | | |
| | | | | | | | | | | | | | | | | | |
| | | | | | | | | | | | | | | | | | |
| | | | | | | | | | | | | | | | | | |
| | | | | | | | | | | | | | | | | | |
| | | | | | | | | | | | | | | | | | |
| | | | | | | | | | | | | | | | | | |
| | | | | | | | | | | | | | | | | | |