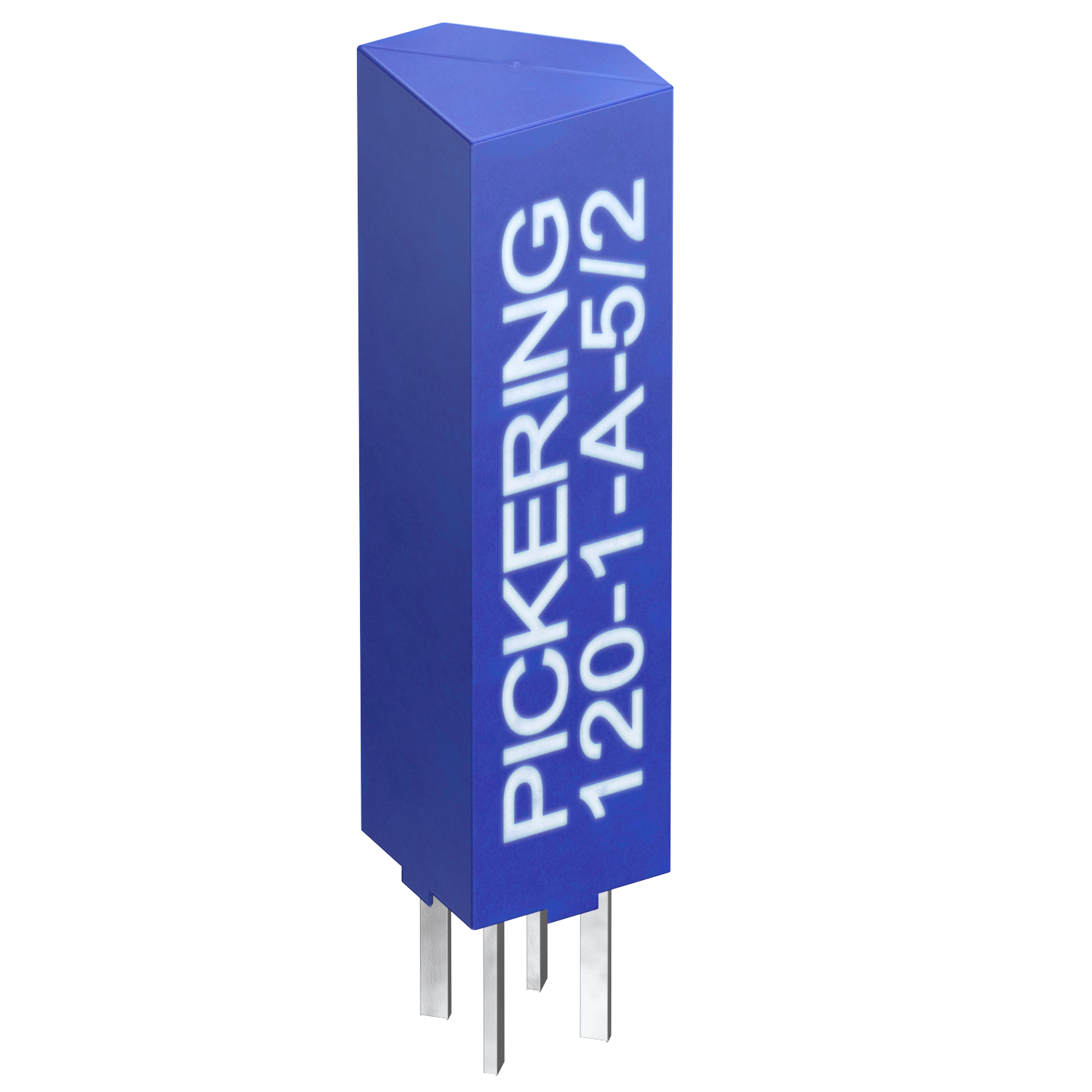 ULTRA-HIGH DENSITY 4MM REED RELAYS
Single Pole Reed Relays
Up to 1 Amp switching - Very high packing density
Stacking on 4mm x 4mm pitch
3V, 5V or 12V coils
1 Form A (SPST) Normally Open Energize to make relay
Plastic package with internal mu-metal magnetic screen
Insulation resistance greater than 10¹²Ω
100% tested for dynamic contact resistance for guaranteed performance
Highest quality instrumentation grade reed switches
Many benefits compared to industry standard relays. Learn more here >.
Highest packing density currently available
Designed in the United Kingdom and manufactured in the United Kingdom and the Czech Republic.
The Series 120 reed relay range takes up the minimum board area making them ideal for very high density applications such as A.T.E. switching matrices or multiplexers. Requiring a board area of only 4mm x 4mm, these relays allow the highest packing density currently available.
Two switch types are available, a general purpose sputtered ruthenium switch rated at 15 Watts, 1 Amp (3 volt version) or 20 Watts, 1 Amp (5 & 12 volt versions) and a low level sputtered ruthenium switch rated at 10 Watts, 0.5 Amps.
These are the same reed switches as used in many other long established Pickering ranges but are orientated vertically within the package, allowing this high density. The small size of the package does not allow an internal diode. Back EMF suppression diodes are included in many relay drivers but if they are not, and depending on your drive methods, these may have to be provided externally.
While socketing relays is not normally recommended due to the risk of affecting contact resistance integrity, it is appreciated that sockets may sometimes be desired for ease of servicing/replacement, in the case of a relay being damaged or reaching the end of its working life.
The device has pins on a 2mm square pitch. There are suitable connectors available from some manufacturers, both SMD and Through Hole, that will allow these relays to be stacked in either a row or in a matrix on a 4mm pitch.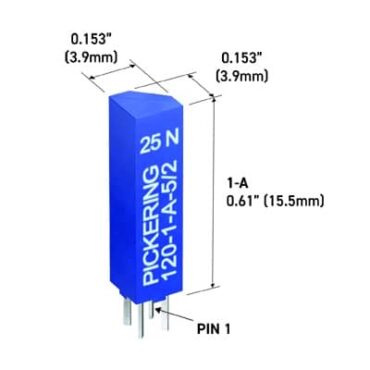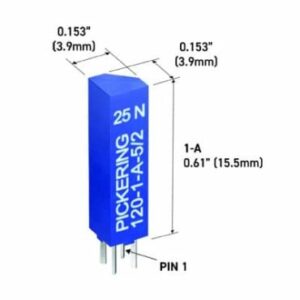 Download the Series 120 Datasheet

All our data sheets have been recently updated to include additional environmental specifications, mechanical characteristics and relay weights, RF plots for coaxial relays (showing VSWR, isolation and insertion loss), interactive links to further useful information, comparison tables to similar relay ranges and much more.
Download the Series 120 3D Models
The download is a zip file containing 3D models in STEP, IGS and SLDPRT formats (free viewers are available for these formats).
The below table will help you narrow down our offering to get you the correct reed relay for your application.
| | | | | | Switching Voltage (DC or AC peak) | Stand-off Voltage (DC or AC peak) | | | | | | | | | | | |
| --- | --- | --- | --- | --- | --- | --- | --- | --- | --- | --- | --- | --- | --- | --- | --- | --- | --- |
| | | | | | | | | | | | | | | | | | |
| | | | | | | | | | | | | | | | | | |
| | | | | | | | | | | | | | | | | | |
| | | | | | | | | | | | | | | | | | |
| | | | | | | | | | | | | | | | | | |
| | | | | | | | | | | | | | | | | | |