SIL / SIP 10 WATT SWITCHING REED RELAYS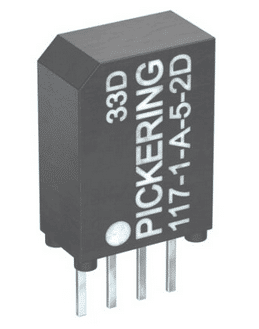 10 Watts switching - Very high packing density
10 Watts switching - Very high packing density. 1 Form A (SPST) stacks on 0.15 x 0.27 inches pitch. 2 Form A (DPST) stacks on 0.15 x 0.40 inches pitch 
• The relays take up the minimum of board area, conserving PCB space
• Many benefits compared to industry standard relays. Learn more here >.
• 1 Form A SPST NO (energize to make) and 2 Form A DPST NO (energize to make)
• Insulation resistance greater than 10E12 Ohms (1TOhms)
• 3V or 5V coils with or without internal diode (DPST relays only available in 5V)
• Ideal for high density applications such as ATE switching matrices or multiplexers
• 100% tested for dynamic contact resistance
• SoftCenter™ construction
• Highest quality instrumentation grade reed switches
• Plastic package reed relay with internal mu-metal magnetic screen
The Pickering Series 117 is a range of Single-in-Line (SIP) reed relays intended for very high density applications such as Automatic Test Equipment (A.T.E.) switching matrices or multiplexers. 
They are available with either 1 or 2 Form A (energize to make) reed switches. These reed relays are the ideal choice for very high density test applications.
Single switch versions require a board area of only 0.15 inches x 0.27 inches. This is one quarter of the board area of the industry standard 0.2 x 0.8 inches Single-in-Line package. The very small size of these relays often makes it possible to increase the functionality of existing designs without increasing the size of printed circuit boards.
The Series 117 switch rating of 5 Watts, 0.5 A is adequate for most instrumentation applications. If a higher rating is required, the Series 116, which is rated at 10 Watts, 0.5 A should be considered. The relay footprint and pin configurations of the Series 116 are identical but the case height increases slightly to 0.49 inches (12.5 mm).
The relays feature an internal mu-metal magnetic screen. Mu-metal has the advantage of a high permeability and low magnetic remanence and eliminates problems that would otherwise occur due to magnetic interaction. Interaction is usually measured as a percentage increase in the voltage required to operate a relay when additional relays, stacked each side, are themselves operated. An unscreened device mounted on this pitch would have an interaction figure of around 40 percent. Relays of this size without magnetic screening would therefore be totally unsuitable for applications where dense packing is required.
3 volt and 5 volt coils are available with an optional Back E.M.F suppression diode.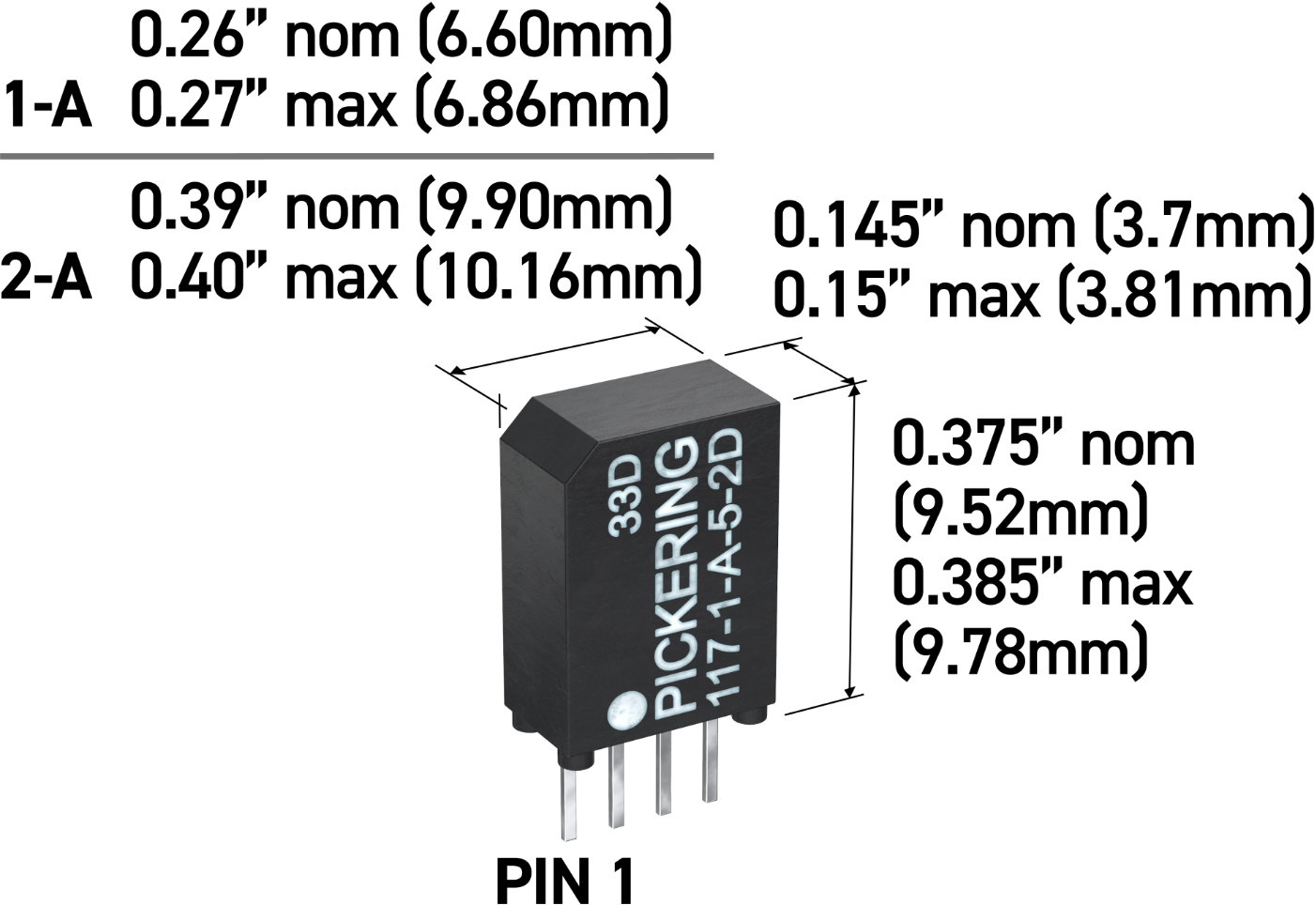 Download the Series 117 Datasheet

All our data sheets have been recently updated to include additional environmental specifications, mechanical characteristics and relay weights, RF plots for coaxial relays (showing VSWR, isolation and insertion loss), interactive links to further useful information, comparison tables to similar relay ranges and much more.
Download the Series 117 3D Models
The download is a zip file containing 3D models in STEP, IGS and SLDPRT formats (free viewers are available for these formats).
All Pickering reed relays feature the highest quality instrumentation grade reed switches making them suitable for the most demanding applications. Internal
mu-metal magnetic screens
(optional on
Series 103
) allow very high packing density. Diodes are optional.
The below table will help you narrow down our offering to get you the correct reed relay for your application.
| | | | | | Switching Voltage (DC or AC peak) | Stand-off Voltage (DC or AC peak) | | | | | | | | | | | |
| --- | --- | --- | --- | --- | --- | --- | --- | --- | --- | --- | --- | --- | --- | --- | --- | --- | --- |
| | | | | | | | | | | | | | | | | | |
| | | | | | | | | | | | | | | | | | |
| | | | | | | | | | | | | | | | | | |
| | | | | | | | | | | | | | | | | | |
| | | | | | | | | | | | | | | | | | |
| | | | | | | | | | | | | | | | | | |