OLDER PICKERING REED RELAY STYLES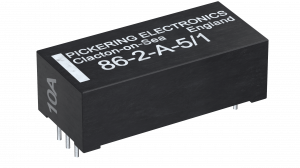 DRY & MERCURY HIGH SENSITIVITY PCB MOUNT
High Sensitivity Reed Relays Dry and mercury wetted
•SoftCenter™ construction
• Encapsulated in a plastic package with internal mu-metal magnetic screen
• Wide range of switch configurations
• Dry and mercury wetted switches are available with the same pin configuration
• 5, 12 and 24 volt coils are standard, with or without internal diode
• Many benefits compared to industry standard relays. Click here to learn more.
These ranges of reed relays are essentially the same as the dry Series 80 and 85 and the mercury wetted Series 88 and 89 but with coil resistances between 2 and 3 times higher.
This feature is particularly useful when using large numbers of relays, to reduce overall current requirements and heating effects, or when the available coil drive power is restricted, for example, in battery operated equipment.
Many special resistances are available, and relays can be designed to customers specific requirements.
These ranges have been manufactured for many years. Most sold today are for service replacements - proving Pickering's long term commitment to our products and to our customers.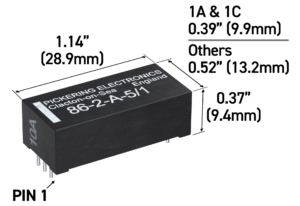 Download the Series 86 & 87 Datasheet

All our data sheets have been recently updated to include additional environmental specifications, mechanical characteristics and relay weights, RF plots for coaxial relays (showing VSWR, isolation and insertion loss), interactive links to further useful information, comparison tables to similar relay ranges and much more.
Download the Series 86 & 87 3D Models
The download is a zip file containing 3D models in STEP, IGS and SLDPRT formats (free viewers are available for these formats).
The below table will help you narrow down our offering to get you the correct reed relay for your application.
| | | | | | Switching Voltage (DC or AC peak) | Stand-off Voltage (DC or AC peak) | | | | | | | | | | | |
| --- | --- | --- | --- | --- | --- | --- | --- | --- | --- | --- | --- | --- | --- | --- | --- | --- | --- |
| | | 1 Form C - SPDT Changeover | | | | | | | | | | | | | | | |
| | | | | | | | | | | | | | | | | | |
| | | | | | | | | | | | | | | | | | |
| | | | | | | | | | | | | | | | | | |
| | | | | | | | | | | | | | | | | | |
| | | | | | | | | | | | | | | | | | |
| | | 1 Form C - SPDT Changeover | | | | | | | | | | | | | | | |
| | | | | | | | | | | | | | | | | | |
| | | 1 Form C - SPDT Changeover | | | | | | | | | | | | | | | |
| | | | | | | | | | | | | | | | | | |