Reed relays contain a reed switch, a coil for creating a magnetic field, an optional diode for handling back EMF from the coil, a package and a method of connecting to the reed switch and the coil to outside of the package. The reed switch is a simple device and relatively low cost to manufacture.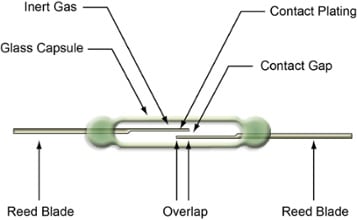 The reed switch explained:
The reed switch has two shaped metal blades made of a ferromagnetic material (roughly 50:50 nickel iron) and glass envelope that serves to both hold the metal blades in place and to provide a hermetic seal that prevents any contaminants entering the critical contact areas inside the glass envelope. Most (but not all) reed switches have open contacts in their normal state.
If a magnetic field is applied along the axis of the reed blades the field is intensified in the reed blades because of their ferromagnetic nature, the open contacts of the reed blades are attracted to each other and the blades deflect to close the gap. With enough applied field the blades make contact and electrical contact is made.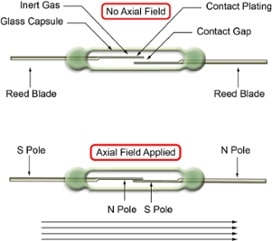 If very little board area is available on your products check out our 109 relays. They require little more than half the board area of the more usual 0.2 x 0.8 inch devices, this allows around 80% more relays onto your board.