The Pickering 100 and 101 Series are a complete range of Single-in- Line (SIL) reed relays featuring low thermal EMF and primarily intended for direct drive from CMOS logic IC's. The 100 series can be driven directly from 4000B CMOS or NMOS logic or similar low current sources, in addition, the mercury wetted relays in the range may be driven directly from TTL logic.
The 101 series is designed to be driven direct with 5V 74HC or 74HCT logic without the need for additional drivers, this can help save valuable board space.
Pickering employs many years of know-how and experience in the design and construction of their reed relays, features such as formerless coil construction allow the coil to be wound directly onto the glass envelope containing the reed switch, this maximises magnetic efficiency and allows the use of less sensitive reed switches resulting in optimal switching action and extended lifetime at operational extremes.
Other design innovations include Pickering's SoftCentre™ technology which provides maximum cushioned protection of the reed switch, minimising internal lifetime stresses and extending the working life and contact stability. Competitors' rigid hard moulded construction results in significant stresses to the glass reed switch which can cause the switch blades to deflect or misalign leading to changes in the operating characteristics and long-term reliability of the reed switch.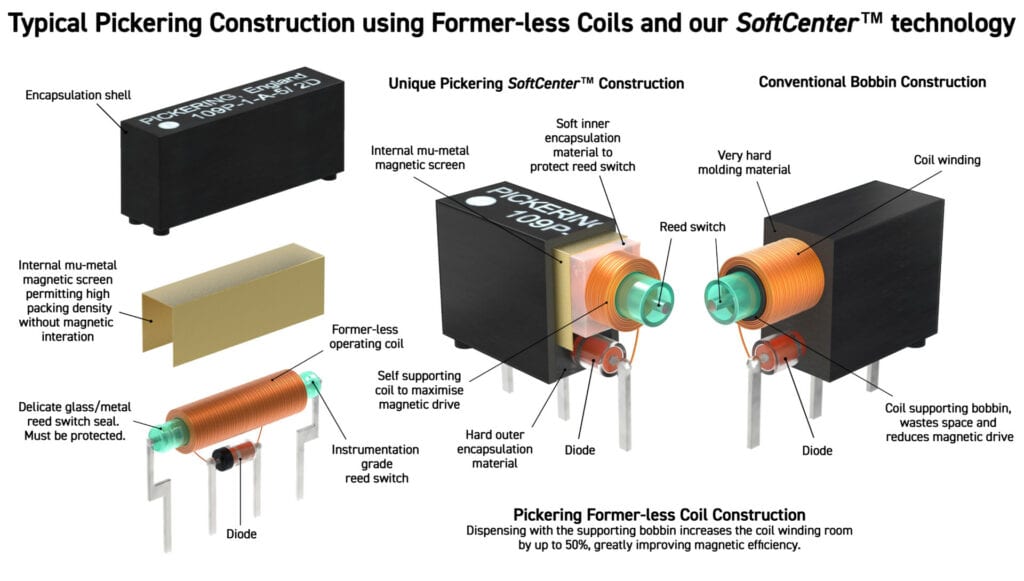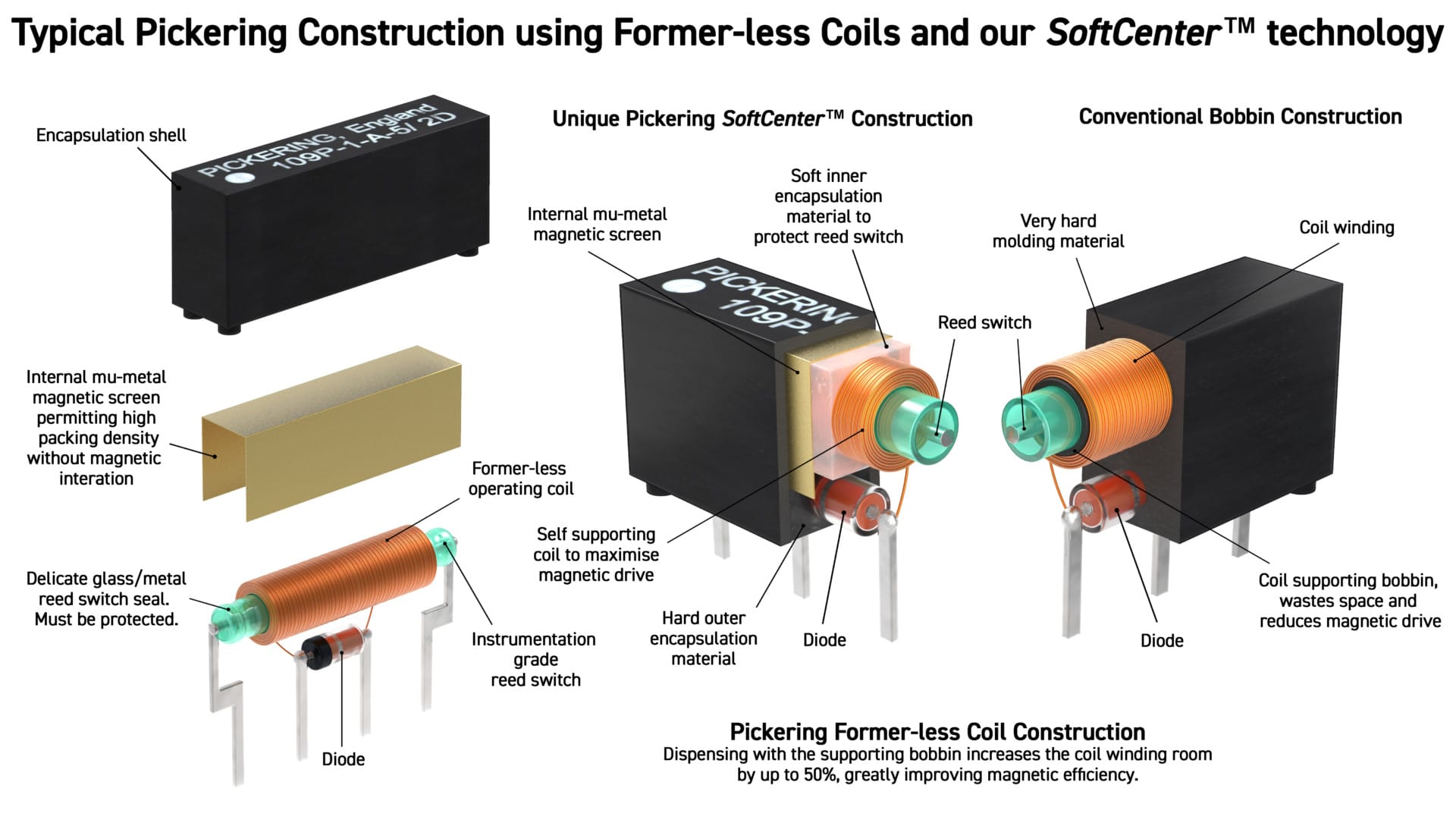 Click below for an Introduction to how Pickering Reed Relays are constructed
The 100 series are housed in a SIL package measuring just 24.1mm length by 10.2mm width, the height of the package is 12.7mm for 1 Form A (SPNO) and 1 Form C (SPCO) and 15.2mm for 1 Form B (SPNC) and 2 Form A (DPNO) contact configurations.
The 101 series are housed in an even more compact SIL package measuring just 20.1mm length by 7.4mm width, the height of the package is 9.4mm for 1 Form A (SPNO) and 1 Form C (SPCO) and 12.5mm for 1 Form B (SPNC) and 2 Form A (DPNO) contact configurations. Both types are available with dry and mercury wetted switches in a range of configurations and coil voltages. The reed switches in the 2 Form A (DPNO) version are vertically stacked so the relay requires the same board area as the 1 Form A (SPNO) type.
Thermal EMF is a phenomenon whereby a very small voltage, typically in the microvolt range (μV), can be produced due to temperature variations in the contacts of a reed relay. The 100 and 101 series reed relays have internal thermal EMF levels as low as 1 microvolt (μV) for single pole types or even lower for two pole types used for differential switching, where there can be some cancellation of the thermal EMF voltages from the two switches.
They feature internal mu-metal magnetic screening to avoid the effects of magnetic interaction between relays this allows very close stacking of the relays on the PCB, in the case of the 101 series these can be stacked on a 0.3 inch (7.6mm) pitch.
Dense reed relay stacking possible saving valuable PCB space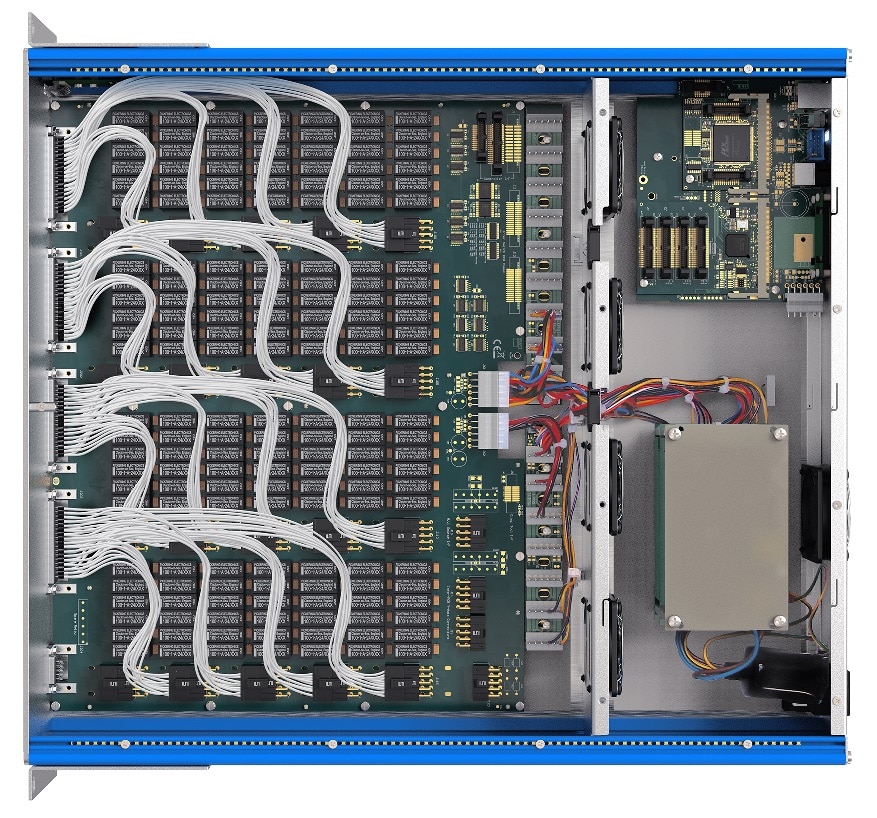 Both the 100 and the 101 series are suited to applications where conservation of current is important, for example, battery powered equipment. Their low coil power requirements and low thermal EMF figures also make them ideal for data acquisition and thermocouple switching applications.
Key Features
SoftCenter™ construction
Highest quality instrumentation grade switches
Low thermal EMF about 1 microvolt or less
Can be driven directly from Logic ICs
Save board space by eliminating the need for drivers
Low power consumption, ideal for portable equipment
Encapsulated in a plastic package with internal mu-metal magnetic screen
Wide range of switch configurations – 1 Form A, 1 Form B, 2 Form A, 1 Form C
Two pole relay requires the same board area as the single pole type
Many benefits compared to industry standard relays
Dry and mercury wetted switches are available with the same pin configuration and footprint
Insulation resistance greater than 10E12 Ohms (1TOhms) for dry Form A devices
3, 5, 12, and 24 volt coils are standard, with or without internal diode
100% tested for dynamic contact resistance
Click here to download the 100 series datasheet
Click here to download the 101 series datasheet
Our reed relays are available at UK distributor Anglia Components. Or to find your local sales representative or distributor click here.