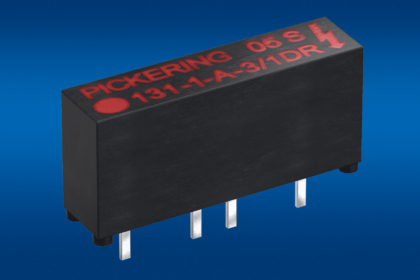 Minimum 1500V stand-off; mini SIL/SIP packaging
Pickering Electronics has launched industry's smallest high voltage relay. Housed in the miniture SIL/SIP package, new Series 131 reed relays have a footprint of just 12.5mm x 3.7mm and a height of 6.6mm and deliver a minimum stand-off of 1500V.
Featuring a  choice of 3, 5 or 12 volt coils, with optional internal diode, Series 131 reed relays are available in the 1 Form A (energize to make) SPST N.O. configuration, and can switch up to 0.7 amps, 10 watts. Devices are ideal for cable testers, mixed-signal/semiconductor testers, backplane testers, high voltage instrumentation, in-circuit test equipment or other HV applications.
Commented Keith Moore, CEO, Pickering Electronics: "Pickering Series 131 miniature SIL reed relays utilise vacuumed, sputtered ruthenium reed switches which have a superb low level performance, making them an excellent choice where a wide range of signals are involved. The range is based on our long-established Series 113 style of plastic package that incorporates an internal mu-metal magnetic screen to enable high packing density, and Pickering's SoftCenter® construction which protects the reed switch."