Clacton-on-Sea, England. Pickering Electronics announced it will be showcasing its latest high-voltage reed relays at the Teradyne Users Group vendor fair on May 2, 2017, in San Francisco.
Pickering Electronics said it has expanded its high-voltage single-in-line (SIL/SIP) reed relay range to include three new series that all offer higher packing density: the Series 67 and 68 dry reed-relay range for up to 10 kV and the Series 119 micro-SIL range for up to 3 kV.
The company calls the Series 119 the industry's smallest high-voltage SIL/SIP reed relay for up to 3 kV stand-off: the 1 Form A, 2 Form A, and 1 Form B versions are available with either 3-, 5-, or 12-V operating coils. The 1 Form A, 1-kV version has four pins on 0.15-inch (3.8-mm) pitch, the same as the long-established Series 109P. These can be stacked side-by-side for maximum packing density (all Pickering SIL/SIP relays have full magnetic screening allowing side by side operation).
This Series 119 relay is intended for voltages considerably higher than standard small SIL/SIP relays, suitable for cable and backplane testers and mixed-signal ATE. Pickering also offers other SIL/SIP high-voltage dry reed relays with the Series 104 for use up to 3-kV stand-off, 25-W switching.
The Series 67 and 68 reed-relay range are available for up to 10-kV stand-off, 7.5-kV switching, with an option of either PCB or flying-lead switch connections. Similar in specification to the long-established Series 60/65, these new relays are manufactured in a SIL/SIP format using former-less coils, which dispense with the more usual coil-supporting bobbin, allowing a smaller package than similar rated devices.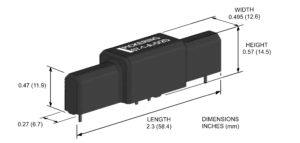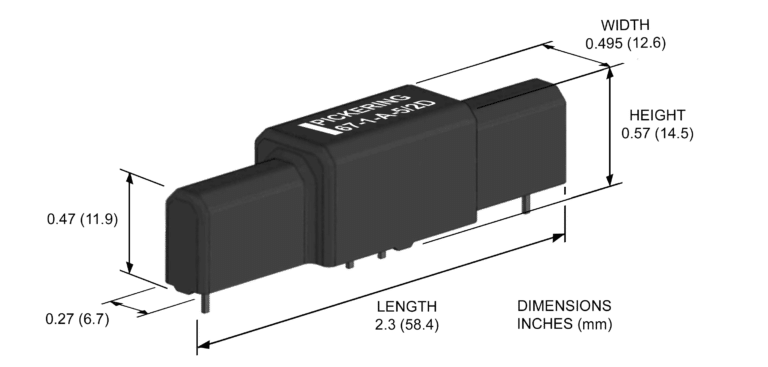 The unusual package design does present some interesting packing possibilities for high density applications such as multiplexers and matrices in instrumentation and test systems. 5-, 12-, and 24-V coils are available as standard, and other voltages can be supplied to special order, as can variations in the lead length of the Series 68 range. The relays are suitable for high-voltage transformer and cable test and some electro-medical applications such as defibrillators.
The long-established Series 60, 62, 63, and 65 are suitable for up to 15-kV stand-off, 12.5-kV switching at 50 W maximum. The Series 62 and 63 also come with push-on connections on the top face. Like the Series 67 and 68, these larger parts all feature robust tungsten plated contacts to ensure a long and reliable life.
You can view the original article here.