It was a banner 2017 for the semiconductor industry, growing to a $412 billion global business. However, in today's disruptive technology landscape, industry leaders cannot rest on the laurels of last year's financial success.
To continue thriving in a world that's rapidly moving beyond smart, SEMICON West, hosted in San Francisco, Calif., July 10-12, brought together the major players in all things semiconductors.
Pickering Electronics, the reed relay company that has pioneered miniaturization and high performance for more than 50 years, was amid the hundreds of exhibitors promoting insight, innovation, and intelligence. At SEMICON West 2018, their Series 124 made its appearance—the industry's smallest reed relay.
Pickering's Evolutionary Process
How did Pickering Electronics achieve such a feat? Pickering's Technical Director Graham Dale describes the company's evolutionary process to ECN, straight from the busy exhibitor conference hall in San Francisco.
"We've been manufacturing reed relays since 1968, I've personally been with the company for almost 44 years, and we have a sister company that's been going for around 30 years making switching systems. There is a very strong synergy between the two companies."
"So a big part of the cost of switching systems is, of course, the boards, connectors, and racks. If you can improve the functionality because of a smaller component, it's worthwhile. That has been the catalyst for smaller and smaller parts. We've always been making smaller relays, and we've always been quite inventive. Unfortunately, many of our other products have been copied by competitors. We've set new standards over the years, and these are our latest ones, so we try to keep staying a few steps ahead."
The Series 124: Design, Components, and Applications
The product sports sputtered ruthenium reed switches with a 5 watt, 0.5 amp rating. Although these switches were used in other Pickering devices such as the Series 111, 111P, and 117, they boast a different feature—vertical orientation within the package. This design choice, according to Dale, grants Series 124 with the highest packing density available.
"Rather than the reed switch being horizontal within the package, the switch is actually vertical in the package. We've optimized the pinout such that the pins are on a 2-mm square pitch, so it is possible to use some proprietary connectors if you do want to socket them. This is not always a good idea though because you do lose some contact resistance integrity but we appreciate that some users may wish to do this for ease of replacement in the event of damage, so we've made it compatible with some standard sockets. It's quite an optimum pin configuration, you know, as it allows tracks between pads on PC boards. At the moment, at the current state of play, that's about as small as we can get."
Measuring just 9.5 mm high, it falls under Pickering's new line of ultra-high density 4 mm2 TM reed relays, which take up a minimum board area of 4 mm x 4 mm. Working on such a small scale, Dale discusses the idea of approaching size limitations:
"We are limited by the sizes of the reed switch, the coils, etc. One thing we did pioneer from relays is that we dispense with the more usual bobbin on which the coil is wound. The coil is wound on a mandrel, and it's wound so the wire, as well as the insulation, has got an adhesive on it, which melts under heat. So the coil is a solid, standalone lump without having a plastic bobbin. You can get probably sometimes twice the winding window because you're dispensing with that plastic work—that has enabled us to make smaller parts."
"We also have internally, in our relays, a mu-metal magnetic screen, which most don't have. They're a magnetic device, of course, so the fields from one can affect the adjacent parts. So, by having that screen, it avoids those problems, which is something that we pioneered also. We have been quite creative in these things over the years, and unfortunately, they tend to be copied."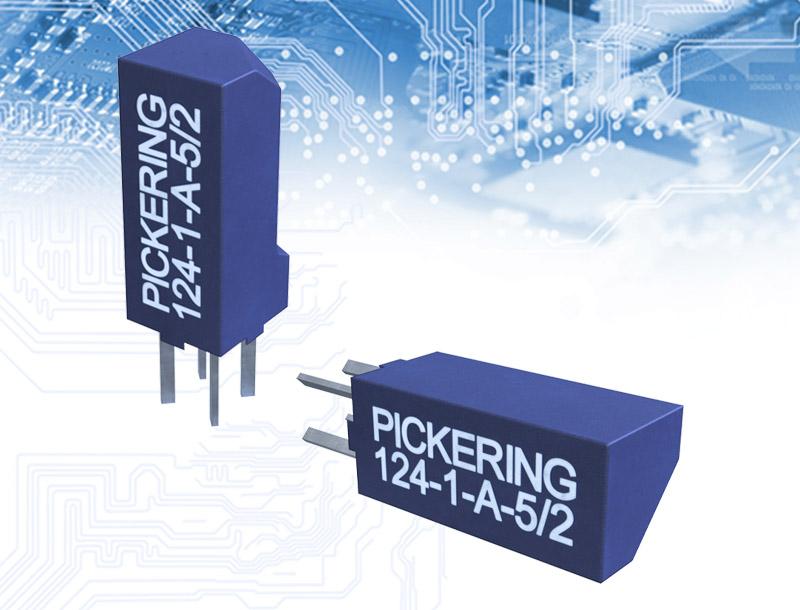 High-density applications, such as automated test equipment (ATE) and semiconductor switching matrices or multiplexers, can benefit from this technology. In addition, thanks to its 80-µs operating time, high-speed test systems can also utilize the Series 124, explains Dale.
"Mostly where people want a high packing density in a high pin count semiconductor test—that's our biggest area. Since they are small, they're also quite fast. The mass of the reed switch is small, so they'll operate quickly, typically 80 µs. It's pretty quick compared to the larger ones of  a few years ago, and of course, people want speed."
SEMICON West and the Industry's Smallest Reed Relay
Living up to the conference's message of staying ahead of the technology curve, Pickering's Series 124 showed considerable improvement from its Series 120 predecessor, which was released at last year's event. Measuring 15.5 mm in height, the 2017 reed relay is rated at 20 watts, 1.0 amps, and is the only other product part of the ultra-high density 4 mm2 TM line.
According to Dale, the public's reaction to the Series 124 was trending toward the positive on that sunny San Francisco afternoon.
"The Series 124 has been well received. They've said, 'Wow, that's small! Where are you going to go from here?' People have been impressed by the size and density certainly. The Series 120 released last year, the predecessor of the Series 124, has also been well received and is selling well."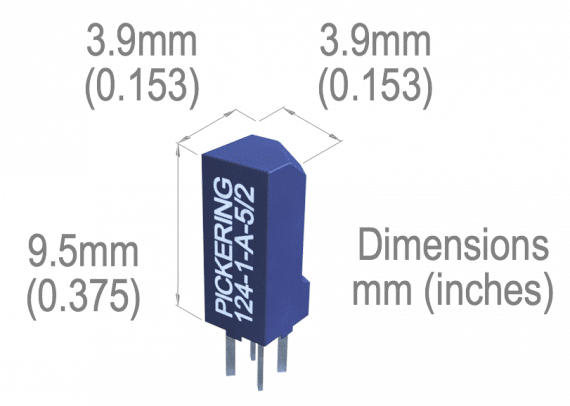 SEMICON West, the premiere event for the semiconductor industry, promoted the beyond smart idea to push the already fast pace of tech innovation. With a sea of exhibitors blanketing the San Francisco Moscone Center, Dale leaves us with these key Series 124 takeaways:
"It has the smallest board area, it's magnetically screened—it has all the features we've evolved over the years and we've combined them now into the smallest reed relay that there is."
You can view the original article here >>