REED RELAYS FOR LOW CAPACITANCE
Pickering's Series 103, 103M & 103GM Reed Relays are a great choice for low capacitance applications.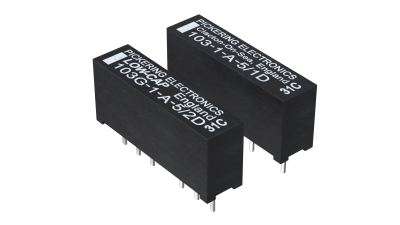 In many switching applications, there can be a need for low capacitance, for example, wide bandwidth A.T.E. switching matrices, attenuator switching or any other applications where exceptionally low levels of inter-terminal capacitances are required. Pickering's Series 103 offers two different designs to give the best performance depending on the application requirements. With any standard reed relay, the switch is fitted inside a coil of similar length resulting in the coil and the switch blades acting like plates in a capacitor, along with the addition of fringing capacitance from internal connections and the magnetic screen.
The 103 and 103M versions minimize this with a much shorter coil, low permittivity potting compounds and where fitted, a modified magnetic screen. This results in closed switch to coil capacitance typically 0.4pF, compared to typically 2.5pF for a standard SIP/SIL reed relay. The 103G and 103GM utilize a coaxial screen between the switch and the coil which when driven by an active guard, results in closed switch to coil capacitance of typically 0.1pF.
The option of an internal magnetic screen ensures correct operation if stacking side by side is required and all types use instrumentation grade reed switches to ensure excellent low-level performance and long life.
Up to 20 W switching. Stacking on 0.2 inches pitch. 1 Form A configurations. Insulation resistance >1012 Ω. Suitable for wide bandwidth A.T.E. switching matrices and attenuator switching.
These relay ranges do however have internal mu-metal magnetic screens fitted. In high density applications when more than one relay may be operated at any time, for example, ATE switching matrices, it is usually necessary to use a relay that includes internal mu-metal magnetic screening. Without this, the operate and release voltages of the relays will be altered by the extraneous fields from adjacent devices. This means that when temperature effects are also considered, it may not be possible to operate a relay at its nominal coil voltage. A magnetic screen is therefore important when relays are used in this way. However, the addition of this screen does have the effect of slightly increasing the capacitance figures of the relay.
Shop Reed Relays for Low Capacitance
The below table will help you narrow down our offering to get you the correct reed relay for your application.
Once you narrow your selections down you can download a reed relay data sheet for more information or request a quote to find out prices and lead times.
| | | | | | Switching Voltage (DC or AC peak) | Stand-off Voltage (DC or AC peak) | | | | | | | | | | | |
| --- | --- | --- | --- | --- | --- | --- | --- | --- | --- | --- | --- | --- | --- | --- | --- | --- | --- |
| | | | | | | | | | | | | | | | | | |
| | | | | | | | | | | | | | | | | | |
| | | | | | | | | | | | | | | | | | |
| | | | | | | | | | | | | | | | | | |
| | | | | | | | | | | | | | | | | | |
| | | | | | | | | | | | | | | | | | |
| | | | | | | | | | | | | | | | | | |